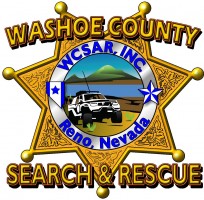 Washoe County Search and Rescue Inc. (WCSAR) is an all Volunteer group that assists Law Enforcement agencies, in Nevada California and Oregon, with Search and Rescue missions. We are a 501(c)(3) organization that receives no taxpayer dollars and relies solely on donations, grants and member's dues to survive.  Our tax ID number is 23-7007538.  A copy of our tax exempt status letter is here.

WCSAR is called on to participate in approximately 90 search missions each year saving the tax payers in excess of $900,000 annually. Every member of WCSAR is an Auxiliary Deputy Sheriff of Washoe County. We travel and search in our personal vehicles and purchase our own uniforms and equipment.
WCSAR trains on Wednesday evenings and occasionally on Saturdays. We are trained and certified in: Wilderness First Aid, Back-country hiking, Fire Evacuations, 4X4 Vehicle searches, low angle rope retrieval, and helicopter hoisting. We are prepared to stay in the field for up to 36 hours without resupply. The unit carries: satellite phones, emergency location tracking equipment for downed/lost aircraft, GPS map tracking and location gear, emergency medical supplies, PFD's (personal flotation devices) and throw bags for water rescues, VHF and UHF radios for communications with law enforcement agencies, ropes and medical gear for retrieving injured persons. We train with local agencies including: Sheriff's Office, Truckee Meadows Fire, Nevada National Guard, REMSA and North Lake Tahoe Fire.
In order to be considered for membership in WCSAR you must:
Be a United States Citizen
Be at least 18 Years Old
Have a clean driving record
Have NO criminal history
Be able to pass a Sheriff's Office background check
Have a strong desire to assist others who are lost or injured.
Pay a $100 application fee.
Have a Valid Nevada Drivers License
If you are interested in joining our team, print out the application and bring it to our next meeting along with a copy of your Nevada Drivers License.